A dedicated group of community members, business professionals and school district personnel are honored to be the initial Trustees of the Foundation.
Mark is a father of three boys who all attend Twinsburg City Schools. He has coached various baseball, soccer, golf, and basketball teams, as well as served in cub scout leadership--all in pursuit of supporting the youth of this community. Professionally, Mark is a wealth consultant and has some professional background in law enforcement. Additionally, he is on the leadership unit of the Twinsburg Community Emergency Response Team (CERT) and is rostered on the Summit County CERT, along with serving on the Twinsburg City Schools Business Advisory Council.

When not working or spending time with his children, Mark can often be found running or strength training. He is passionate about fitness and wellness. He believes that the greatest gift he can give to his children and those of the community is to enhance their opportunity for lifelong happiness and success, and he believes that the Twinsburg Schools Foundation can be an excellent driver for both.
David Andrews
VICE CHAIRMAN
David is a huge believer in Twinsburg and its schools. "We moved here in 1997 because of the quality of the schools and the incredible diversity of the educational opportunities."

David served on the Twinsburg City School District Board of Education for nine years and is excited about the opportunity to be part of bringing a Schools Foundation to the community. In his work life, David is an attorney representing businesses across northeast Ohio. His other passions are travel--near home and far away--and baseball. Go Tribe!
Allison has been a 30-year resident of Twinsburg and her son was educated in the Twinsburg City School District from kindergarten through high school, graduating in 2014. Allison serves as the CFO for the Twinsburg Public Library. She served as past president of the board of directors for the Twinsburg Chamber of Commerce. She is a current member of the Twinsburg City Schools Business Advisory Council and the board of directors for Dancing Classrooms of Northeast Ohio.

Allison sees serving on the Twinsburg Schools Foundation as an opportunity to give back to the district that gave her son an excellent educational experience. When not volunteering, Allison enjoys spending time with family and friends, traveling with her fiance and working with him on home projects.
Sherrie is a Director with the law firm of Peters Kalail & Markakis, Co., L.P.A. Her practice is devoted to advising boards of education on a variety of legal issues and representing boards in litigation and administrative matters. Sherrie received her undergraduate degree from The College of Wooster and her law degree from The Ohio State University. She serves on the Executive Board of Directors for the YMCA of Greater Cleveland; is the Secretary for the Courtney Jones Care and Cure Foundation; and is the Past Chair of the Executive Committee for the Ohio Council of School Board Attorneys.

Sherrie grew up in Northeast Ohio, and has been a resident of Twinsburg for over ten years. Sherrie and her husband (Quinton) have a daughter who currently attends Twinsburg City Schools. She is excited about the Twinsburg Schools Foundation's mission and the opportunity to support the School District and its students.
Norm Potter is originally from Geneva, OH and has returned to Ohio after living in Michigan and Utah. He started working as the curriculum supervisor for the Twinsburg City Schools in 2016. Norm is married to Michelle (formerly Young) and they have two children, Peyton and Paige--both pursuing college degrees.

Norm is happy to see the Twinsburg Schools Foundation being established to help the schools thrive in developing the future-ready classrooms needed for our students. Outside of work, Norm runs volleyball camps and clinics, speaks with various groups on teaching and learning, writes, and most importantly he spends time with his family.
Martin is the treasurer for the Twinsburg City School District, where he has received numerous awards. He has received multiple "Certificates of Achievement for Excellence in Financial Reporting" and "Ohio Auditor of State Award with Distinction" for excellence in financial reporting. Mr. Aho has spent most of his career in public service, having been an auditor with the State of Ohio, an assistant treasurer, and subsequently treasurer.

He graduated from the University of Akron, receiving an MBA. He enjoys going to the ocean with his family and taking long walks.
Kathi Powers has been the Superintendent with the Twinsburg City School District since August 2010. Prior to joining the Twinsburg City School District, Kathi served as the Director of Human Resources for the Brecksville-Broadview Heights City School District and as the Director of K-12 Instruction for the South Euclid-Lyndhurst City School District. Kathi served as an Elementary School Principal and a Middle School Principal with the Bedford City School District and as an Elementary School Principal with the Maple Heights City School District.

Kathi was recognized by Cleveland State University with the Emerging Leadership Award in 1995 and she is also a Jennings Scholar. Kathi is the recipient of the Martha Holden Jennings Foundation's 2019 Ohio Superintendent Outstanding Performance Award. Kathi serves on the Executive Committee of the Alliance for High Quality Education. She is a member of the Board of Directors for both the Ohio Schools Council (OSC) and the Greater Cleveland School Superintendents' Association (GCSSA) where she is currently the Chairman of the OSC and the President of the GCSSA. Kathi and her husband Paul are residents of the City of Twinsburg.
Karen grew up in the Cleveland area and graduated from Miami University with a Bachelor's of Science in Business. She and her husband are a "Miami Merger" and have been married for over 27 years. She began her career at Wells Fargo and worked in Cincinnati and Louisville before being transferred back to northeast Ohio. After the birth of their first child, she stayed home until their second child began kindergarten. At that time she began a second career as a preschool teacher.
Karen has volunteered in some capacity with the Twinsburg schools since her children started school. She is passionate about public school education and hopes to contribute to the district's schools through the Twinsburg Schools Foundation. She and her husband chose Twinsburg 20 years ago because of the excellent school system and vibrant community. They never thought they would still be here, but have stayed for the original reasons that brought them here in the first place. Karen enjoys reading, running, and spending time with her family and their energetic rescue dog.
Mr. Houston is a lifelong resident of Twinsburg. He and his wife are proud alumni of Twinsburg City Schools. He is employed at Essendant in Twinsburg as the manger for maintenance and EHS. Mr. Houston is the Commander of the Twinsburg Community Emergency Response Team (CERT), member of the Summit County CERT, the Ohio Safety Congress Chemical Committee, Summit County Safety Council, and the Twinsburg Schools Foundation. He is a former member of the Twinsburg Fire and EMS department. Mr. Houston has traveled to both Florida and Texas for hurricane relief efforts.

He has coached baseball and football in Twinsburg for over 30 years and is currently the Twinsburg High School freshman football coach. Mr. Houston is also the owner of Precipitation Unlimited--an underground sprinkler and night-lighting business. He attended the University of Akron. He enjoys playing golf in the Thursday night Gleneagles golf league, traveling, riding bikes, volunteering, giving back to the community, and most importantly spending time with his family. He and his wife Donna, who is a teacher at Twinsburg High School, have two children, Jacquelyn and Jonathan, son-in-law Justin, and granddaughter Olivia.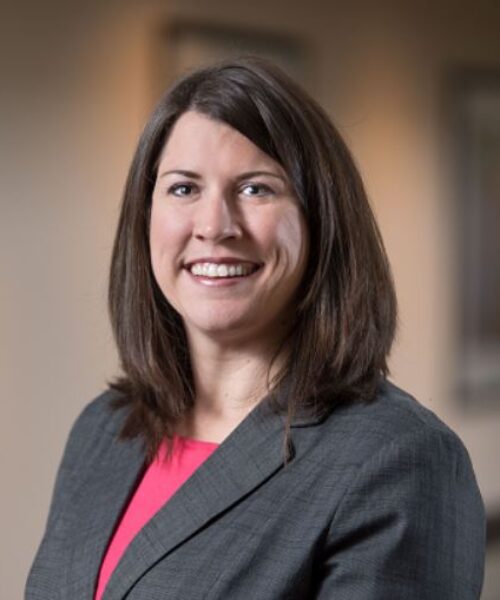 Erin Deimling is a Vice President and Director of Client and Community Relations at PNC Bank. In this role, she develops and implements charitable giving, sponsorships and local branding strategies as well as employee engagement initiatives for the Cleveland Market.

Deimling joined the bank in 2005 as Marketing Manager for National City Corporation, working in various roles and capacities. She was responsible for activities such as managing large corporate sponsorships, general advertising, new branch marketing and product marketing, in which she worked closely with the line of business teams to develop marketing materials.

Deimling earned a bachelor's degree in Business Administration from The University of Dayton and an MBA from John Carroll University. She is a member of the Cleveland Bridge Builders Class of 2012 and serves on the boards of the Rainey Institute, Starting Point, Cleveland Public Library Foundation and Twinsburg Schools Foundation. She resides in Twinsburg with her husband, Paul, and two daughters.
Chad Welker has been the Business Manager of the Twinsburg City School District since 2014. A proud member of the Twinsburg City School District community, Chad is married to Kelly Welker and they have two children, Ryan and Andrew. Prior to working at Twinsburg City School District, Chad was the Business Manager, among other positions, at South Euclid Lyndhurst Schools from 2006-2014. Chad is a graduate of the Weatherhead School of Management at Case Western Reserve University and Charles F. Brush High School. Chad is thrilled to be a part of the Twinsburg Schools Foundation as it is actively working to improve the well-being of the Twinsburg City School District community.
Lea grew up in southeast Ohio. She earned her B.S. in Education from Ohio University, completed her Master's Degree and Doctoral Studies work at the University of Dayton and holds a superintendent license through coursework from Kent State. Lea has been a high school teacher, an elementary school principal, and a district curriculum director. She is currently working for the Educational Service Center of Northeast Ohio as a curriculum consultant. Lea and her husband, Terry have four children in the Twinsburg Schools. Lea is pleased with and proud of the teaching and learning provided by the TCSD staff and is excited to be a part of the Twinsburg Schools Foundation to further support the district in its initiatives.
In her current role as SVP & CFO, Rosanne manages the finance function for the Cleveland Foundation and their $2.5 billion endowment. The Cleveland Foundation is the oldest community foundation in the United States. Prior to joining the Cleveland Foundation in April 2016, she was responsible for managing $10 billion of retirement assets for Eaton Corporation. Rosanne has held the position of treasurer for five major manufacturing companies including the Lubrizol Corporation, in Wickliffe, OH. Ms. Potter is also on the board of Walsh Jesuit High School.